What's New:
American 3D Printing brand TPU just $47.95/kg! That's less than half the price of Ninjaflex. Both 1.75 and 3mm. We were even able to build with this on a Makerbot Rep 2 without any mods to the extruder!
We also now have American 3D Printing brand ASA (Acrylonitrile Styrene Acrylate) is similar to ABS, but is stiffer and is UV-resistant. Same price as ABS, $35.95/kg.
In addition to PLA and ABS, we now have Makeshaper brand PETg for only $35.95/kg, less than half the price of Taulman T-Glase.
We have the carbon fiber reinforced HTPLA from Protopasta. This stuff is REALLY rigid!
Speaking of carbon fiber, we have super-strong carbon fiber reinforced nylon from Colorfabb.
And speaking of Colorfabb, in addition to their specialty brass, bronze, and copper filaments, we also have glow in the dark PLA!
---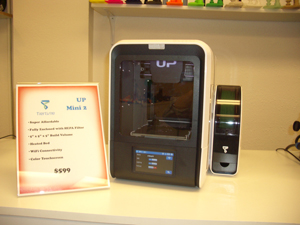 We are now officially Tiertime resellers, and stock the new UP Mini 2! At only $599, it features a fully enclosed build chamber, WiFi and a color touch screen! This is an ideal starter 3D printer for the student or hobbiest. Come on in and check it out today!
---
American 3D Printing is now an official Mcor reseller. Come see our Iris full-color paper based 3D printer!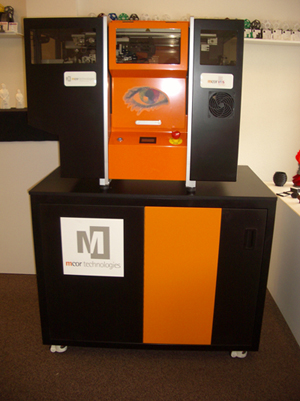 ---
Ribbon cutting at our 2nd birthday party open house on August 27 2015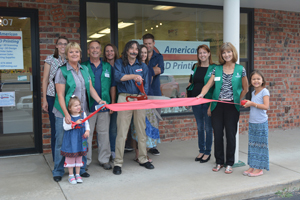 ---
Proud members of the Evergreen Area Chamber of Commerce since 2015.
---
We have partnered with one of the largest filament filament manufacturers in the USA (yes that's right, made-in-the-USA quality!) to bring you our own American 3D Printing branded filament.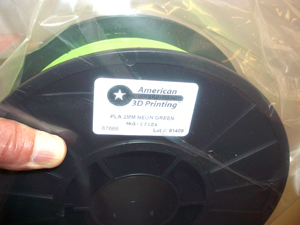 It is MUCH higher quality than that Chinese stuff you see everywhere, yet we can bring this to you for only $35.95/kg! We have PLA, TPU and ABS in both 1.75 and 3mm, and HIPS in 1.75mm and ASA in 3mm. 12 colors of ABS and 25 colors (and counting) of PLA.
---
In the News:
---
3D Printing:
$20/Hour + Material
Show us your student ID and printing is 1/2 price!
---
3D Scanning:
Object < 8" tall x 8" wide $10
Object > 8" tall x 8" wide < 3 ft $20
Object > 3 ft up to 9 ft $50
Person's Head $15
Whole Body $40
---
Engineering, Design, Post Processing, Consultation and Training:
$40/Hour
---
Material : Varies, see latest list

ABS:
American 3D Printing 3mm 3 colors
New! ASA 3mm Black
PLA:
American 3D Printing 1.75 & 3mm 25 colors
Makerbot 1.75mm 30 Colors
Type A Machines 1.75mm 7 Colors
Makeshaper 1.75 & 3mm 12 Colors
Push Plastic 1.75 & 3mm 5 Colors

Taulman Nylon 618 1.75mm & 3mm
Taulman Nylon 645 1.75mm & 3mm
Taulman Bridge Nylon 1.75 mm & 3mm
Taulman FDA Nylon 680 1.75 & 3mm
Taulman Alloy 910 1.75 & 3mm
Taulman PCTPE 1.75 & 3mm
Taulman T-Glase PET 1.75mm & 3mm 6 Colors
Taulman T-Lyne PE 1.75 & 3mm,
Taulman 645, 910 & Bridge now in BLACK
Taulman SAC1060 support material

High Impact Polystyrene (HIPS) 1.75mm
PETg 1.75 & 3mm 6 Colors
Laybrick 3mm Natural
TPU 1.75 & 3mm 7 Colors
PVA 3mm Natural
Aquatek 3mm Natural
Stainless Steel 3mm Natural
Copper 1.75 & 3mm Natural
Bronze 1.75 & 3mm Natural
Brass 1.75 & 3mm Natural
Carbon Fiber Polyamide 1.75 & 3mm Black
---
Equipment - In Stock, take one home today!:
Lulzbot TAZ Workhorse $2,950
Sense 3D Scanners $499
Makerbot Replicator+ $2,099
Makerbot Replicator 2 $2,199
Lulzbot TAZ Pro $4,950
Tiertime UP Mini 2 $599
Lulzbot Mini 2 $1,500
Ask about our education discounts!
---
Blowout Prices on Used Equipment!
1/2 Price from list!
Z-Morph Personal Fabricator $999
---